Twice a bridesmaid…
When Norah writes in her diary that 'nothing much happened', she means that the day hasn't quite 'delivered' in terms of meeting her feelings of excitement, anxiety or anticipation. When she expects an ordinary day, she makes no such comment. But in the early weeks of the war in September 1939, and in the lead-up to her sister Helen's wedding a month earlier – the subject of this post – 'nothing much happened'. We can see from Norah's diary entries, however, that she was pretty darned busy:
5th August 1939: Nothing much happened. Went down town with Ma. Went to the house & skinned the wall. Jim went down too. Rained again. Ma, Helen & Joe went to Long Eaton. Had frock stuff.
6th August: Got up early. Jim refused to do any more at the house. Dog. Made three cakes all by myself. Went down to the house. Warm, sunny day.
7th August: Rich went to the races. Bira came second at Brooklands. All went down to the house & papered two bedrooms & staircase. Joe came & helped. Mary & Mrs Twells came. We stayed till about 9. Sunny.
Before I continue with the theme of this post – how much was actually happening, when Norah suggests her days are dull – I need to confront the uncomfortable fact that on 7th August 1939, Norah called Jim Sharpe a 'dog'. This is one of very few occasions where I read something in her diaries that I take exception to. She often bad-mouths teachers (Miss Shellie was a 'nasty lying cat') and her brother Birdy ('such a pig') and these make me laugh. But Jim Sharpe? Jim was the the fiancée of May Twells, sister of Joe Twells, whom Norah's sister Helen was about to marry. He was a lovely man with a great big foghorn of a laugh and very devoted to our family. On this occasion he had given up a day's holiday to help decorate the cottage that Helen and Joe were to move to after their wedding. I find the 'dog' comment gets in the way for a while, creating a 'disturbance in the field.'
But Norah's harsh response alerts me to the likelihood that there was some anxiety in the Hodgkinson household over Helen and Joe's house and whether it would be ready in time for the wedding. There were money worries also, as Helen had been sacked from Gibson's hosiery factory a few months earlier (she'd been surly with the boss after he'd reprimanded her for lateness). Both families were pitching in, brothers, sisters, mothers on both sides carting their  decorating equipment along Barroon and down through Ladies' Close to the two-up-two-down cottage that adjoined Hemington Post Office.
Norah was enjoying herself: she will have taken the three cakes down to the house, and I imagine her proudly handing out a slice to all the helpers as they perched on a box, balancing a strong cup of tea on their laps.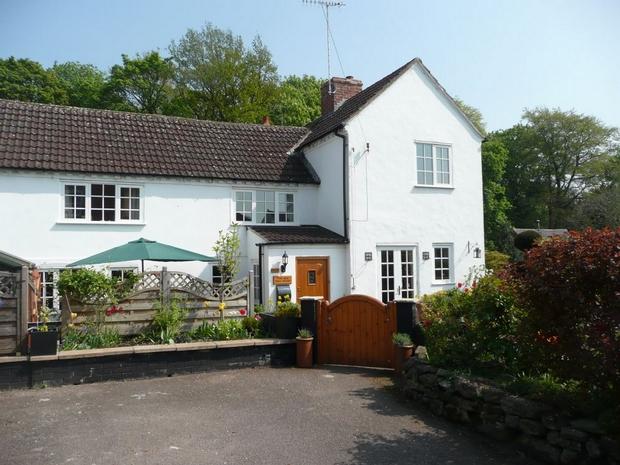 Photograph above: Helen and Joe's first house was the section – one window to the first and ground floors – on the left. It was red-brick, damp and poky back then but is now very des res, having been knocked through to incorporate the building that was Hemington Post Office.
8th August: All went down to the house & Mary. Stayed till dinner but didn't go in afternoon. Went shopping with Ma & bought patterns for frock. Poured with rain.
9th August: Washday. Helen, May & Mary went to Long Eaton. Bought ottoman. R[ich] & F[rank] went down to the house. Rained in the afternoon. Washed my hair at night.
10th August: Went to Marjorie Daw's to have my ends permed at half past 9 & came out at 1/4 past twelve. Helen & Rich went down to the house. Nothing much happened. Rich shut me in wazzy. Poured with rain.
Norah was excited by the arrival of Helen's furniture, most of it from the Co-op. I am pleased that she mentions the green and gold Lloyd Loom ottoman which I re-covered last year.
11. Black-out over most of England at night. Went down to Helen's house to see furniture which arrived this morning. Richard Tauber on wireless but missed him. Rained a bit.
12. Made the cakes. Not bad. Ma nearly made my new frock. It's nice. Helen & Joe bought Mary's & my frocks from Pearls but left Helen's behind. Sunny warm.
13. Worked. Dennis came at one & saw Mary & me in dresses. Very nice. Dennis, boys & I went down to Helen's house to see bed. furniture which came yesterday. Very nice. Went a walk with Ma. Sunny, warm.
14. Did sewing all morning & sunbathed in the afternoon. Went down to Hills. Grandad came & Ma & I went back to Diseworth with him. Came back at six. Hot, sunny.
15. Washday. Rich sunshined the wazzy. Helen put my hair in curl. Sunbathed in the afternoon. Mrs Twells & crowds of others came to go to Hemington. Brought crockery presents. Sunny.
16. Received a letter from Agnes. Went to Long Eaton with Helen & Mary & brought our frocks home. Lovely, sunny.
17. Went down to the house with Ma & Helen. Went down to Hills. Put my hair in curl. Mary came up & Rich drove us in wazzy with spider. Sunny.
18. Nothing much happened. Helen had to go to Derby about her dole & got it. Several more presents arrived. Mary came up & tresals & set table out. Sunny.
Again, nothing much happened, but besides the  decorating there is more furniture to receive,  dresses to pick up and others to be measured for, sewing to finish, cakes to bake, hair to curl, suntanning to be achieved, the wazzy to be 'sunshined', and the garden to arrange with tressel tables for Helen and Joe's wedding breakfast.
19. Helen's wedding day. Awfully nervous. Fell down steps when coming out of chapel. Had lovely feast. I love Len Dakin. Mary & I went to Derby with H & J when they went to Bristol. Sunny. Derby lost to Leicester 4-6. Stoke lost to Wolves 2-0.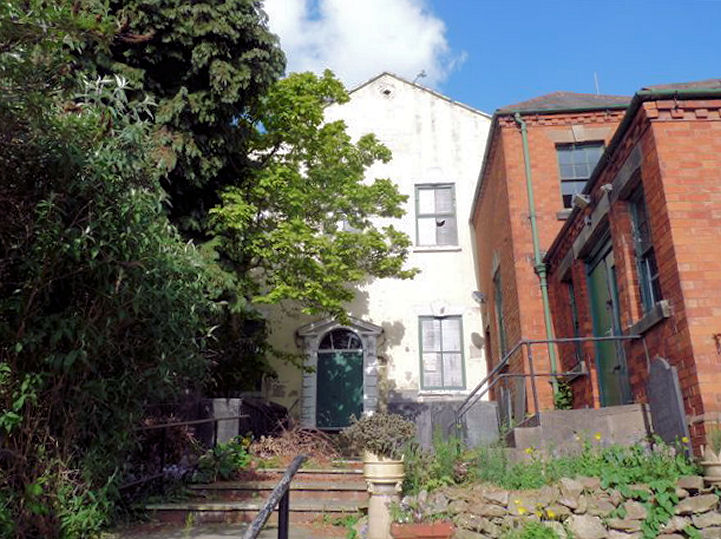 Photo: Castle Donington Baptist Chapel (and steps), built 1774, currently for sale with PP for a residential dwelling
Photo: The bride and groom, Helen and Joe, with bridesmaids (Norah, left, and Mary Twells) and fathers (Tom Hodgkinson and behind Mary, George Twells).
Uncharacteristically, Norah doesn't give any details of the lovely feast, but I am certain that ham, tongue and trifle would have been involved.
20th August 1939: Got up early. Cleaned up a lot. Did not go a walk. Mary came round. Packed up the cake in the boxes. Dull, dark.